Net Carbs

Image Courtesy of Pixabay
How Do Net Carbs Work
On A Keto Diet?

Wonder what net carbs are? Keep reading. Our energy comes from carbohydrates, so when that daily intake of carbs has been used up, our body has no choice but to go after the spare tire of fat for fuel. That's why we need to reduce our carbohydrate intake on a Keto diet.

---
ThinSlim Foods advertisements

ThinSlim Foods® has

ZERO NET CARB

breads ...


and a whole lot more!

(Pasta, Cakes, Cookies...)



Click LINK below to

Go Low Carb!
---
Allow me to repeat that:

Our energy comes from carbohydrates, so when that daily intake of carbs has been used up, our body has no choice but to go after the spare tire of fat for fuel. That's why we need to reduce our carbohydrate intake.
READ THE ABOVE PARAGRAPH AGAIN until it SINKS IN. Seriously.
In order to keep track of the carbs we DO digest, we keep track of net carbs. Examples coming up!
By choosing to eat high-quality fats (meaning essential fats provided by avocados and olives, for example) versus the bad fats found in vegetable oils, soybean oil, (yes, I was surprised that vegetable oils were bad, after all it's made from veggies!) we give our body the 'good' fat it needs. Read more about good fats here.

What ARE Net Carbs?

The next question that arises is "How do you count the carbs you consume? All of them, or 'net' carbs?"
It's your choice to either track 'total carbs' or 'net carbs'. I chose net due to my love of Suzanne Ryan's books which contain hundreds of mouth-watering recipes. The total food in the recipes are broken down into net carbs, fat, protein, and their calories.
 
Net carbs are what's left from the total carbs after you subtract Dietary Fiber, and Sugar Alcohols. Why take those two out of the equation?

Dietary Fiber and Sugar Alcohols do not have much impact on your blood sugar levels as they take a lot longer to be digested.
When you're reading your labels, look at Total Carbohydrates, then simply deduct the fiber and sugar alcohols. What you have left are the "net carbs." Don't confuse "sugars" with "sugar alcohols". They are not the same.

Deduct FIBER and SUGAR ALCOHOLS only from Total Carbohydrates. I know I'm belaboring this point, but anything I can do to help make the 'net carb' thing easier to compute makes my day (and yours!) a little easier.
NOTE: Sugar Alcohols are not in all products!

Net Carb Examples

Here is an example of a food with 13 grams Total Carbs. It breaks down into Dietary Fiber 6; sugars 0 grams; and Sugar Alcohols 5 grams:
Total Carbs 13g    
Dietary Fiber 6g    
Sugars 0g  
Sugar Alcohol 5g
 
Do the math:
13 Total Carbs – 6 Dietary Fiber – 5 Sugar Alcohols = 2 net carbs
Another Example Using Cauliflower:

Cauliflower has 4 grams Total Carbs per serving; 2g of Dietary Fiber; and 2g of Sugars:
Total Carbs 4g    
Dietary Fiber 2g    
Sugars 2g
 
Do the math:
4 Total Carbs – 2 Dietary Fiber = 2 net carbs
With the cauliflower example, we don't have sugar alcohols to deduct; we can only deduct the fiber. I know this can seem complicated.
Don't be tempted to accidentally deduct the sugars from the Total Carbs!
 
We are only deducting from TOTAL CARBS the FIBER and SUGAR ALCOHOLS. What number you arrive at after that computation are the NET CARBS.
 
Read this over a few times until you've got it down pat!
 
I highly recommend you purchase Suzanne Ryan's Simply Keto and Beyond Simply Keto books. Check them out here. Suzanne's books are thoughtfully designed and laid out beautifully with full color photos of her tasty Keto recipes.

In the front section of Suzanne Ryan's books you'll find out where to find Keto calculators so you'll know what percentages to aim for in regards to net carbs, fat, protein, and calories. These are the four macro-nutrients we track.
 
Many people say don't start out tracking all the four macros … just start out with reducing your net carbs. But me? Nah, I track all four using Cronometer, shown below. This way, everything stays in balance.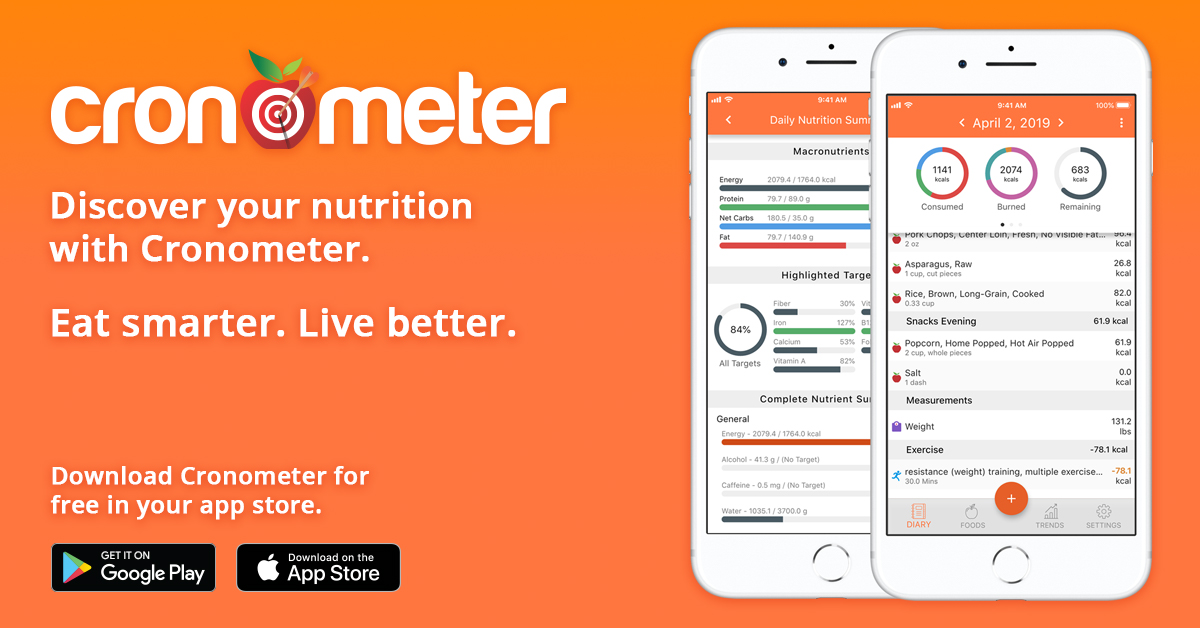 If you don't like or want to involve a computer in all this, then use one of these paperback Journal books available here and described below:
Keto Kick-Off Journal

A daily meal planner with an included personal journal to record your thoughts – for a full six months.
Keto Recipe and Meal Tracker
As the name implies, it enables you to keep track of your daily meals – breakfast, lunch, dinner, dessert, snack – for a full six months.
Plus at the back section are pages for you to write in your favorite Keto recipes for B, L, D, D, S so you can keep your original Keto recipe books in pristine condition.
Finally Keto Recipe Keeper

This version is for those of you who DO use an online tracker but need just ONE place to keep your favorite recipes so your original Keto cookbooks stay in top-notch condition. This is the book I use all the time!
The State Of Ketosis

When we are successful in reducing the carbs to a level whereby the fat takes over for energy, this is known as the state of Ketosis.
 
I know a lot of folks confuse Ketosis with Diabetic Ketoacidosis which IS life-threatening.
 
When we talk about Ketogenic diets, we're talking about being in a safe state that produces a natural metabolic process that enables us to shed the fat-pounds. It's vitally important to know the difference so you can put your fears to rest around the word "Keto" which is short for "Ketogenic" and "Ketogenesis".

* As an Amazon Associate, I earn a small commission from qualifying purchases.
The price you pay does not increase.
Also as  a ThinSlim Foods, and Cronometer affiliate, I may earn a small commission too.
Again, the price you pay does not increase. You help me keep the lights on!

---
Go KETO!